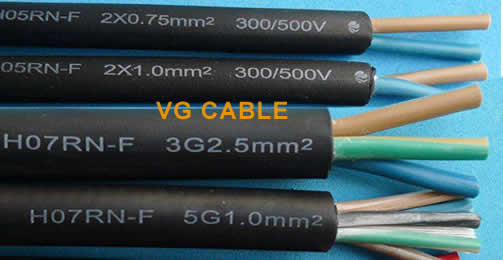 H07rn-f cable is suitable for heavy equipment such as engines, large tools, motors, agricultural machinery, wind power generation or construction equipment, etc. Can withstand great stress. Used in dry or humid indoor, but also in the open or wet industrial environment or do fan torsion cable use. The cable can also be installed over stucco, in temporary buildings and in residential camps. Used for protection and fixed installation in pipes and equipment, also used for connecting cables such as motors.
► What is H07rn-f cable 2.5mm 2 core?
H – means conformity to harmonized standards
07 – identifies the voltage rating as 450/750V
R – Refers to the EPR insulation
N – Relates to the PCP outer sheath
F – Indicates flexible copper conductors within
2G2.5 – 2 cores 2.5 mm2 Green/Yellow, Brown, Black, Grey colors insulation cores
h07rn-f 2.5mm means the nominal cross sectional area of conductor is in 2.5 sq.mm.
h07rn-f 2.5mm 5 core there is without green/yellow color core identification.
► H07rn-f cable 2.5mm 2 core manufacturer
Vgcable has accumulated a lot of practical experience in the field of industrial cables for many years, and has many of our cable products in the global industrial field, including various kinds of machinery manufacturing, automation engineering, electromechanical machine tools, electrical equipment, industrial robots and other industries and fields.
The main products of the company include flexible cables, tow-chain cables, data cables, nationally-certified cables, power cables, cables for electrical equipment, security monitoring cables, rubber and plastic cables, low-smoke halogen-free cables, TPU cables, high-temperature cables, flat cables, industrial composite cables, special cables for trailer containers, trailers, etc.
Vgcable can meet your high standards for products, so that you can experience Germany's first-class product technology and international service at the price of the domestic market.
► h07rn-f cable prices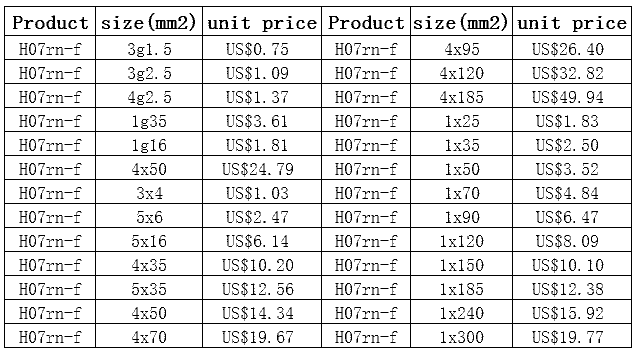 The cable price is for reference, it's based on copper (LME) price changing.