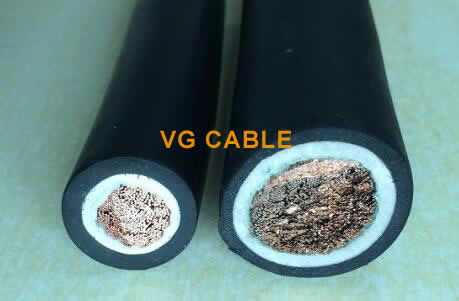 H07RN-F is available with either a single core design or multi-core design, Let VGCABLE introduce h07rn-f single core specification & h07rn-f 1x16/70/95/120/150/300 specification.
1.h07rn-f single core
H07RN-F cable dimensions, some of our most popular single core H07RN-F flexible trailing cable sizes are included below, but the cable is also available in 2-core, 3-core, 4-core and above.
H07rn-f Cable conductors, Class 5 Flexible Copper Conductors for Single Core and Multi-Core Cables.
2.h07rn-f 1 specification
1)h07rn-f 1x16
Rubber power and control cable
Heavy standard construction
Number of Conductors: 1
Conductor Diameter: 16mm²
Cable Outer Diameter: 10.8 - 12.0mm
Without Protective Conductor
Flame-retardant according IEC 60332-1-2
Oil-resistant according to EN 60811-404
Type approval according to EN 50525-2-21
Core insulation: rubber compound, type EI 4
Outer sheath: rubber compound, type EM2
Core ID: Colour-coded according to VDE 0293-308
Nominal Voltage: 450 / 750 V
Temperature range: -25°C to +60°C
Class 5
UV resistant
Reel Length= 50M
2)h07rn-f 1x70
Conductor Diameter: 70mm²
Cable Outer Diameter: 18.6 - 20.5mm
Other information as above
3)h07rn-f 1x95
Conductor Diameter: 95mm²
Cable Outer Diameter: 20.8 - 22.9mm
Other information as above
4)h07rn-f 1 x 120
Conductor Diameter: 120mm²
Cable Outer Diameter: 22.8 - 25.1mm
Other information as above
5)h07rn-f 1 x 150
Conductor Diameter: 150mm²
Cable Outer Diameter: 25.2 - 27.6mm
6)h07rn-f 1 x 300
Conductor Diameter: 300mm²
Cable Outer Diameter: 33.5 - 36.7mm
3.h07rn-f 6mm specification
H07RN-F Cable 6mm 5 Core Per Meter
Minimum Bending Radius:
Up to 25mm²: 6 x overall diameter
Above 25mm²: 8 x overall diameter
Core Identification:
2 Cores: Blue, Brown
3 Cores: Green/Yellow, Blue, Brown
4 Cores: Green/Yellow, Brown, Black, Grey
5 Cores: Green/Yellow, Blue, Brown, Black, Grey
6 Cores and above: Black with White numerals, Green/Yellow