Cable prices fluctuate with copper prices, which is subject to the price quoted by h07rn-f manufacturers. Let VGCABLE introduce Rubber Cable ho7rnf cable price, ho7/h07rn-f price.
1.H07rn-f cable introduction
H07 range provide a high quality, flexible rubber power supply cable that delivers power to your stage installation safely and reliably. The durable cable is designed to withstand chemical, mechanical and thermal calamities making it suitable for applications from stage, lighting and audio equipment to environments such as worksites.
The series of cables available are from 1 to 5 core and 1mm to 16mm.
Applicable standard: IEC 60245-4 / GB/T 5013.4
Flame retardance: IEC 60332-1 / GB/T 18380.1
Conductor: Plain or tinned annealed copper, IEC 60228 / GB/T 3956 Class 5
Insulation: Ethylene-propylene rubber (EPR) compound, type IE4
Sheath: Rubber compound, type SE3, Polychloroprene (PCP) compound, type SE4
Core identification: single core: black
2 core: Blue & brown
3 core: Blue, brown & green/yellow
4 core: Black, brown, grey & green/yellow
5 core: Black, blue, brown, grey & green/yellow
7 cores and above are numbered
Sheath/Jacket: PCP (Polychloroprene) more commonly referred to as OFR
(Oil resistant & flame retardant)
Colour: Black
Voltage: 450/750v
Operating temperature: Maximum 60°C,
Minimum bending -30°C
Minimum bending radius: 6 x overall diameter for cables not exceeding 25mm O/D
8 x overall diameter for cables exceeding 25mm O/D
Standards: BS6500: electrical cables for use with appliances and equipment intended for domestic, office and similar environments
BS7919: Electric cables. Flexible cables rated up to 450/750V for use with appliances and equipment intended for industrial and similar environments
Class 5
CPR Fire Class ECA
2.h07rn-f cable prices
Cable prices fluctuate greatly with market copper prices, for reference only, The following is the ho7rnf cable price list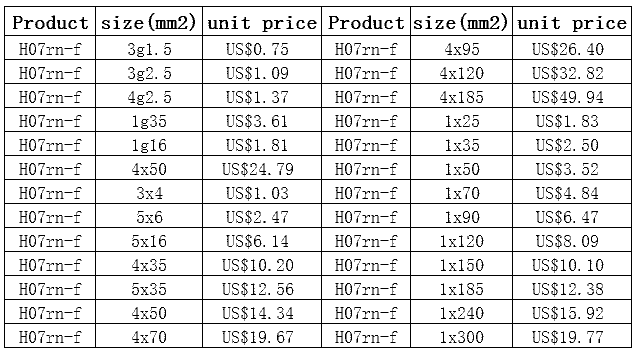 The cable price is for reference, it's based on copper (LME) price changing.
3.h07rn-f cable manufacturer
VGCABLE is a professional supplier for ho7rnf cable.