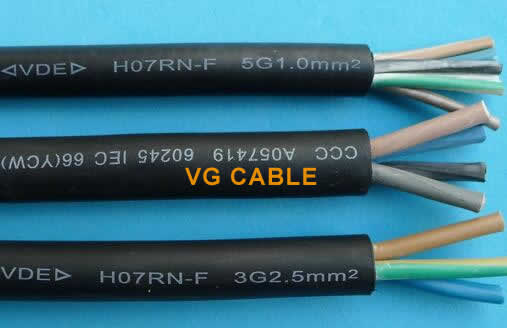 ho7rnf rubber insulated cable is Copper conductor, EPR compound insulation, PCP compound sheath, Heavy duty rubber flexible cables.
1.ho7rnf rubber insulated cable
ho7rnf rubber insulated cable are intended for a variety of applications where appliances or equipment including heavy industrial equipment, require a flexible connection to the power supply. These cables have the capacity to withstand weather and oil, water proof, flame-retardant and medium mechanical stress. ho7rnf types are heavy duty cables for general purpose.
2.ho7rnf cable price
The price are based on copper (LME) price changing.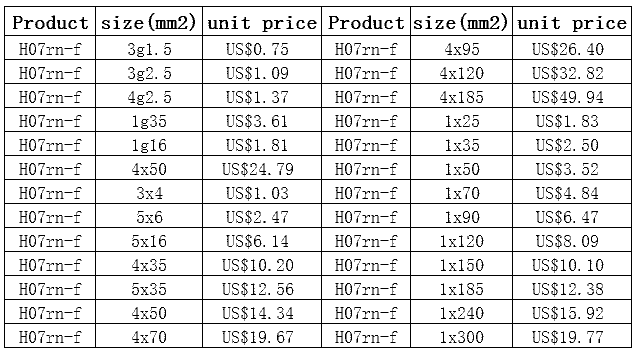 3.ho7rnf cable
Conductor: Plain or tinned annealed copper wires, flexible conductor class 5 to EN 60228
Insulation: EPR (Ethylene Propylene Rubber) compound, type EI 4 to EN 50363-1
Sheath: PCP (Polychloroprene) compound, type EM 2 to EN 50363-2-1
Rated voltage (U0/U): 450/750 V
Operating temperature: -30℃ to +60℃ (Max. +85℃)
Min. bending radius: 4 to 8 × overall diameter
Cores identification
2 core: Blue, Brown
3 core: Green/Yellow, Blue, Brown
4 core: Green/Yellow, Brown, Black, Grey
5 core: Green/Yellow, Blue, Brown, Black, Grey
6 core and above: Green/Yellow, Black with White numbers
Sheath color: Black
4.ho7rnf cable manufacturer
VGCABLE is a professional supplier for ho7rnf cable.